FISH OIL
Original price
Tk 2,499.00
-
Original price
Tk 2,499.00
Tk 2,499.00
-
Tk 2,499.00
Current price
Tk 2,499.00
MAXIMUM BENEFIT
400mg of EPA. 300mg of DHA
Supports heart. brain, vision. & joint health*
Enteric-coated and citrus flavored
Promotes overall health and wellness.
MAXIMUM OMEGAS
Ultra-Purified Fish Oil is High in DHA/EPA and Promotes Overall Health & Wellness.
WHAT'S IN FISH OIL!
Serving Size: 1 Softgel
Servings Per Container: 90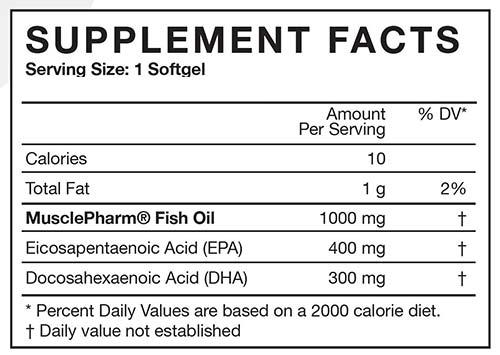 DIRECTION FOR FISH OIL
: Consume one serving (1 softgel) of MusclePharm® Fish Oil with morning, noon, and evening meals or use as directed by a physician or licensed nutritionist. Use as part of a healthy diet and exercise program.
WARNINGS: This product is only intended for use by healthy adults over 18 years of age. Consult your physician before using this product if you are taking any prescription or over the counter medications or supplements. Do not use this product if you are pregnant, expect to become pregnant or are nursing. Do not use this product if you are at risk or are being treated for any medical condition or if you are taking a MAO inhibitor.